February 19, 2015
Bald Eagle Insignia Bolt Action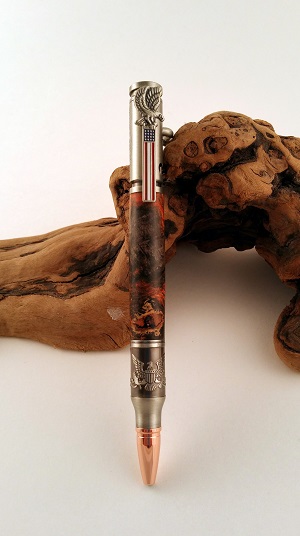 At the beginning of the year I briefly mentioned that there were 3 new styles of bolt action pens. Well, here is the first one, The Bald Eagle Insignia pen.
The Bald Eagle Insignia found on the Great Seal of the United States of America, the Presidential seal, as well as many U.S. Military insignias, is a symbol of freedom, and the rights enjoyed by citizens of the United States.
The clip has a cast Bald Eagle at the top and the American flag running the length of the clip. To cap it all off the words "God Bless America" are stamped into the cap of the pen.
While the craftsmanship of the metal parts is a first rate, the wood of this pen is what sets it apart as a truly unique pen. This buckeye burl has been stabilized and dyed twice. It is through this double dying process that wonderful swirls and contrasts start to really show up. I love the way that the orange and blacks, and natural yellows mix and swirl around one another. It reminds me a bit of the cosmos. Of a nebula as seen from the Hubble telescope.
This pen is of medium weight, providing a nice heft and writability while not being heavy and weighing your hand down. The total length of the pen is 5-1/4″ allowing it to fit comfortably in a pocket or purse.